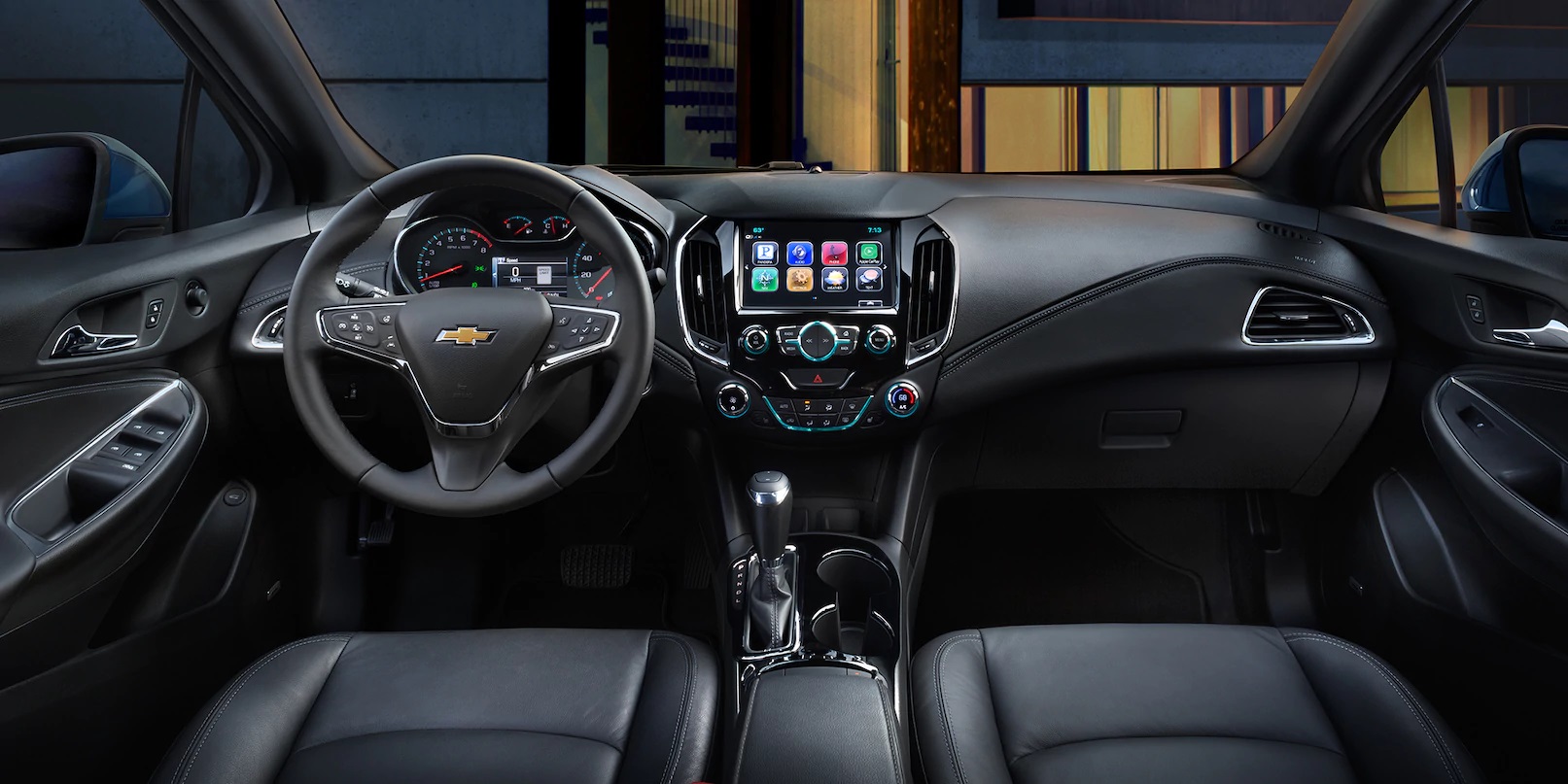 Chevrolet Cruze Infotainment System: Steering Wheel Controls
Depending on the vehicle options, some audio functions can be controlled through the steering wheel controls.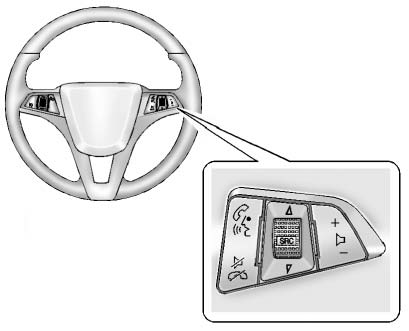 (Push to Talk): Press to interact with Bluetooth or voice recognition.

(Mute/End Call): Press to decline an incoming call, or to end a current call. Press to silence the vehicle speakers while using the infotainment system. Press again to turn the sound on. Press to cancel voice recognition.

SRC

(Thumbwheel Control): Press to select an audio source.
Use the thumbwheel to select the next or previous favorite radio station, CD, MP3 track, USB, and Bluetooth Audio.
Use _ SRC to skip to the next song or show using Pandora (if equipped) or Stitcher. See Pandora Internet Radio on page 25 or Stitcher Internet Radio on page 30.
+

− (Volume): Press + to increase the volume. Press − to decrease.
See "Steering Wheel Controls" in the owner manual.

Overview
Read the following pages to become familiar with the infotainment system features. WARNING Taking your eyes off the road for extended periods could cause a crash resulting in injury or death to yo ...

Using the System
The infotainment system is controlled by touching the screen, and by using the knobs and other buttons. Voice recognition, through the steering wheel controls, can be used to control the infotain ...
Other materials:
Warning Lights, Gauges, and Indicator
Warning lights and gauges can signal that something is wrong before it becomes serious enough to cause an expensive repair or replacement. Paying attention to the warning lights and gauges could prevent injury. Warning lights come on when there could be a problem with a vehicle function. Some ...
Collision Repair
Specifications Point-to-point measurements are for reference only. All measurements are given in millimeters. Use these measurements for diagnosing and estimating. Point-to-point measurements are duplicated with tram bar pointers set at equal lengths. All die marks, holes, slots, and fast ...
Filling a Portable Fuel Container
WARNING Filling a portable fuel container while it is in the vehicle can cause fuel vapors that can ignite either by static electricity or other means. You or others could be badly burned and the vehicle could be damaged.
Related news