Chevrolet Cruze Owners Manual: Hydraulic Clutch
For vehicles with a manual transmission, it is not necessary to regularly check brake/clutch fluid unless there is a leak suspected.
Adding fluid will not correct a leak.
A fluid loss in this system could indicate a problem. Have the system inspected and repaired.
When to Check and What to Use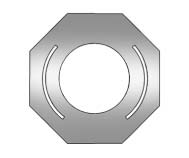 The brake/hydraulic clutch fluid reservoir cap has either a symbol or text specifying the type of brake fluid. The common brake/clutch fluid reservoir is filled with GM approved DOT 3 brake fluid as indicated on the reservoir cap.
How to Check and Add Fluid
Visually check the brake/clutch fluid reservoir to make sure the fluid level is at the MIN (minimum) line on the side of the reservoir. The brake/ hydraulic clutch fluid system should be closed and sealed.
Do not remove the cap to check the fluid level or to top off the fluid level.
Remove the cap only when necessary to add the proper fluid until the level reaches the MIN line.

Manual Transmission Fluid
How to Check Manual Transmission Fluid It is not necessary to check the manual transmission fluid level. A transmission fluid leak is the only reason for fluid loss. If a leak occurs, take the veh ...

Engine Air Cleaner/Filter
When to Inspect the Engine Air Cleaner/Filter Inspect the air cleaner/filter at the scheduled maintenance intervals and replace it at the first oil change after each 80 000 km (50,000 mi) interval. ...
Other materials:
Wiper/Washer System Description and Operation
Wiper/Washer System Components The wiper/washer system consists of the following electrical components: Windshield Wiper Relay Windshield Wiper Speed Control Relay Windshield Washer Pump Relay Rain Sensor (optional) Windshield Washer Fluid Pump Windshield Wiper Motor Window Wiper/Wa ...
Immobilizer Operation
This vehicle has a passive theft-deterrent system. The system does not have to be manually armed or disarmed. The vehicle is automatically immobilized when the key is removed from the ignition. The system is automatically disarmed when the vehicle is started with the correct key.
Related news