Mazda 3 Owners Manual: Commander switch operation
NOTE For safety reasons, some operations are disabled while the vehicle is being driven.
Volume dial operation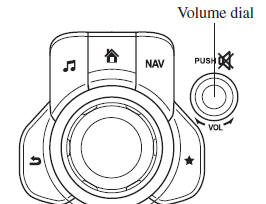 Press the volume dial to switch the audio MUTE on and off.
Turn the volume dial to adjust the volume. The volume increases by turning the dial clockwise, and decreases by turning it counterclockwise.
Switches around commander knob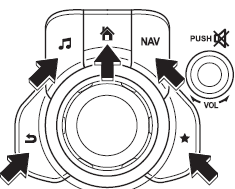 The following operations can be done by pressing the switches around the commander knob.

: Displays the home screen.

: Displays the Entertainment screen.

: Displays the Navigation screen
(Only navigation-equipped vehicles). For operation of the Navigation screen, refer to the navigation system manual. If the SD card for the navigation system is not inserted, the compass indicating the direction in which the vehicle is moving is displayed.

: Displays the Favorites screen.
Long-press to store particular items in Favorites. (Radio, phonebook and destination of the navigation system can be programmed.)

: Returns to previous screen.
Commander knob operation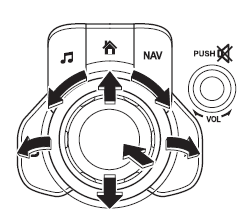 (Selection of icons on screen)
Tilt or turn the commander knob and move the cursor to the desired icon.
Press the commander knob and select the icon.
NOTE Long-press operation of the commander knob is also possible for some functions.
Touch panel operation
CAUTION Do not press the screen strongly or press it with a sharp-pointed object. Otherwise, the screen could be damaged.
NOTE For safety reasons, operation of the center display is disabled while the vehicle is being driven. However, items not displayed in gray can be operated using the commander switch while the vehicle is being driven.

Audio Set (Type B)
NOTE The explanation of functions described in this manual may differ from the actual operation, and the shapes of screens and buttons and the letters and characters displayed may also differ fro ...

Basic Operation Method
TOUCH & TAP Touch or tap on the item indicated on the screen. The operation is launched and the next item is displayed. SLIDE Touch the setting item displaying a slider bar. Tou ...
Other materials:
Vacuum Line Inspection
MZR 2.0, MZR 2.5, MZR 2.3 DISI Turbo 1. Remove the vacuum hose.. 2. Verify that air can be blown from the power brake unit side of the vacuum hose towards the intake manifold side, and that air cannot be blown in the opposite direction. If there is any malfunction of the inner che ...
Transmission/Transaxle SST
1: Mazda SST number 2: Global SST number Example 1:49 UN30 3009 2:303-009 Crankshaft damper remover Clutch [G35M-R] 1:49 E011 1A0 2: – Ring gear brake set 1:49 SE01 310A 2: – Clutch disc center too ...
Oil Control Valve (OCV) Removal/Installation [Mzr 2.3 Disi Turbo]
1. Remove the battery cover.. 2. Disconnect the negative battery cable.. 3. Remove the charge air cooler.. 4. Remove the ignition coils.. 5. Disconnect the ventilation hose from the cylinder head cover.. 6. Remove the cylinder head cover.. 7. Remove in the order indicated in the table.
Related news