Nissan Sentra Service Manual: Body component parts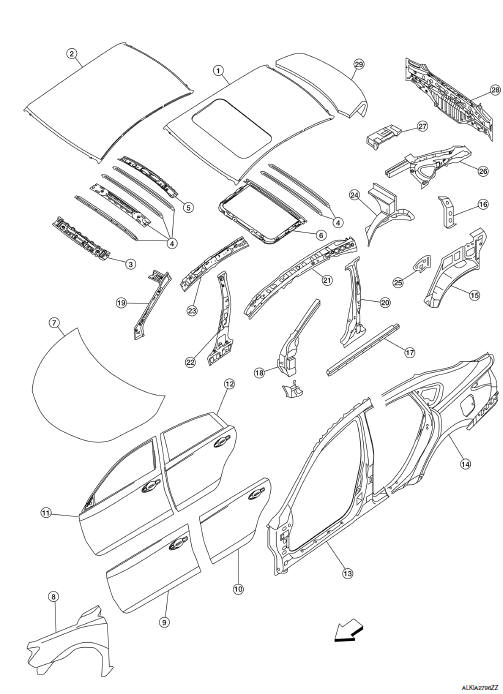 Moonroof panel assembly
Roof panel assembly
Front roof rail
Roof rail
Rear roof rail
Moonroof frame assembly
Hood assembly
Front fender (RH, LH)
Outer front door panel (RH, LH)
Outer rear door panel (RH, LH)
Front door assembly (RH, LH)
Rear door assembly (RH, LH)
Front body side outer (RH, LH)
Rear body side outer (RH, LH)
Rear wheel housing outer (RH, LH)
Rear pillar reinforcement (RH, LH)
Outer sill reinforcement (RH, LH)
Front pillar reinforcement (RH, LH)
Front pillar reinforcement (RH, LH)
Center pillar reinforcement (RH, LH)
Roof side rail reinforcement (RH, LH)
Center pillar inner (RH, LH)
Roof inner side rail (RH, LH)
Rear wheel housing inner (RH, LH)
Rear inner sill extension (RH, LH)
Rear panel assembly (RH, LH)
Rear parcel shelf extension (RH, LH)
Rear panel
Trunk lid assembly

Front

Repairing material
Foam Repair During factory assembly, foam insulators are installed in certain body panels and locations around the vehicle. Use the following procedure(s) to replace any factory-installed foam i ...
Other materials:
Seat belt warning system
Seat Belt Warning System Does Not Function 1.SEAT BELT WARNING LIGHT Turn ignition switch ON. Does the seat belt warning lamp come ON? YES >> GO TO 2. NO >> • Check 10A fuse [No.
Related news