Subaru Legacy: Select lever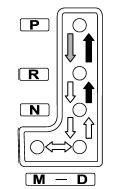 The select lever has four positions, "P", "R", "N", "D" and also has a manual gate for using the manual mode.

P (Park)
This position is for parking the vehicle and starting the engine. In this position, the transmission is mechanically locked to prevent the vehicle from rolling freely. When you park the vehicle, f ...
See also:
Manual transmission
Starting the engine 1. Depress the brake pedal. 2. Press on the clutch and shift to neutral. 3. Press the Start/Stop button. The ignition is activated automatically for a certain time and is sto ...
Windshield wiper blades. Replacing
Replace the wiper blades if they are worn. 1. Lift the wiper arm away from the windshield. 2. Push the release tab, then move the wiper blade down the wiper arm to remove. 3. Remove the wiper blade ...
Transmission Limp Home Mode
Transmission function is monitored electronically for abnormal conditions. If a condition is detected that could result in transmission damage, Transmission Limp Home Mode is activated.
Related news