Toyota Corolla Owners Manual: Location of the spare tire, jack and tools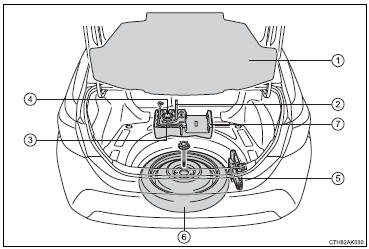 1 Luggage floor cover 2 Wheel nut wrench
3 Jack handle
4 Jack attachment*
5 Jack
6 Spare tire
7 Tool tray
*: The jack attachment is used when raising your vehicle with a floor jack.
CAUTION
■Using the tire jack
Observe the following precautions.
Improper use of the tire jack may cause the vehicle to suddenly fall off the jack, leading to death or serious injury.
●Do not use the tire jack for any purpose other than replacing tires or installing and removing tire chains.
●Only use the tire jack that comes with this vehicle for replacing a flat tire.
Do not use it on other vehicles, and do not use other tire jacks for replacing tires on this vehicle.
●Put the jack properly in its jack point.
●Do not put any part of your body under the vehicle while it is supported by the jack.
●Do not start the engine or drive the vehicle while the vehicle is supported by the jack.
●Do not raise the vehicle while someone is inside.
●When raising the vehicle, do not put an object on or under the jack.
●Do not raise the vehicle to a height greater than that required to replace the tire.
●Use a jack stand if it is necessary to get under the vehicle.
●When lowering the vehicle, make sure that there is no-one near the vehicle. If there are people nearby, warn them vocally before lowering.
Other materials:
Evap monitor (vacuum pressure monitor)
Notice: a cold soak must be performed prior to conducting the drive pattern to complete the internal pressure readiness monitor. Cold soak preconditions The monitor will not run unless: mil is off. Fuel level is approximately 1/2 to 3/4. Altitude is 7800 feet (2400 m) or less. ...
Setting speed dials
1 Select "Add SD" using . 2 Select the desired data using . 3 Press and hold the desired preset button (from to ). For details about setting speed dials from the call history: For details about deleting speed dials: ...
Monitor description
While the engine is being cranked, the battery positive voltage is applied to terminal sta of the ecm. If the ecm detects the starter control signal (sta) while the vehicle is driving, it will conclude that there is a fault in the starter control circuit.
Related news