Toyota Highlander Owners Manual: Trailer tongue weight
A recommended tongue weight varies in accordance with the types of trailers or towing as described below.
To ensure the recommended values shown below, the trailer must be loaded by referring to the following instructions.
The gross trailer weight should be distributed so that the tongue weight is 9% to 11%.
(Tongue weight /gross trailer weight x 100 = 9% to 11%)
gross trailer weight
tongue weight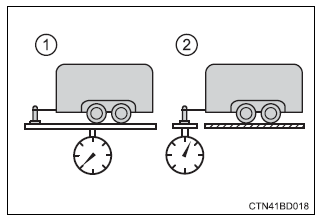 If using a weight distributing hitch when towing, return the front axle to the same weight as before the trailer connection.
If front axle weight cannot be measured directly, measure the front fender height above the front axle before connection. Adjust weight distributing hitch torque until front fender is returned to the same height as before connection.
The gross trailer weight, gross axle weight and tongue weight can be measured with platform scales found at a highway weighing station, building supply company, trucking company, junk yard, etc.

Gcwr, twr and unbraked twr
Confirm that the gross trailer weight, gross combination weight, gross vehicle weight, gross axle weight and tongue weight are all within the limits. Gcwr*1 and twr*1 *1: These models meet the ...

Hitch
Trailer hitch assemblies have different weight capacities. Toyota recommends the use of toyota hitch/bracket for your vehicle. For details, contact your toyota dealer. If you wish to insta ...
More about Toyota Highlander:
Engine (3MZ-FE)
INSPECTION 1. INSPECT ENGINE COOLANT (See page 16-20 ) 2. INSPECT ENGINE OIL 3. INSPECT BATTERY (See page 19-36 ) 4. INSPECT AIR CLEANER FILTER ELEMENT SUB-ASSY 5. INSPECT SPARK PLUG (See page 18-9 ) 6.
Related news