Toyota RAV4 Service Manual: System description
General
The air conditioning system has the following features:
In accordance with the temperature set using the temperature control switch, the air conditioning amplifier determines the outlet temperature based on the input signals from various sensors.

In addition, corrections are made in accordance with the signals from the water temperature sensor to control the outlet air temperature.

Controls the blower motor in accordance with the airflow volume determined by the air conditioning amplifier based on the input signals from various sensors.
Automatically changes the outlets in accordance with the outlet mode ratio that is determined by the air conditioning amplifier based on the input signals from various sensors.
Based on the signals from the ambient temperature sensor, this system calculates the outside temperature and indicates it in the multiinformation display in the combination meter assembly.
The left/right independent temperature control and neural network control make air conditioner control available to suit the persons in the driver seat and in the passenger seat.
Turns the rear defogger and outside rear mirror heaters on for 15 minutes when the rear defogger switch is pressed. Turns them off if the switch is pressed while they are operating.
Checks the sensors in accordance with the operation of the air conditioner switches.
The air conditioning amplifier has the function of controlling the indicator lighting.
Mode position and damper operation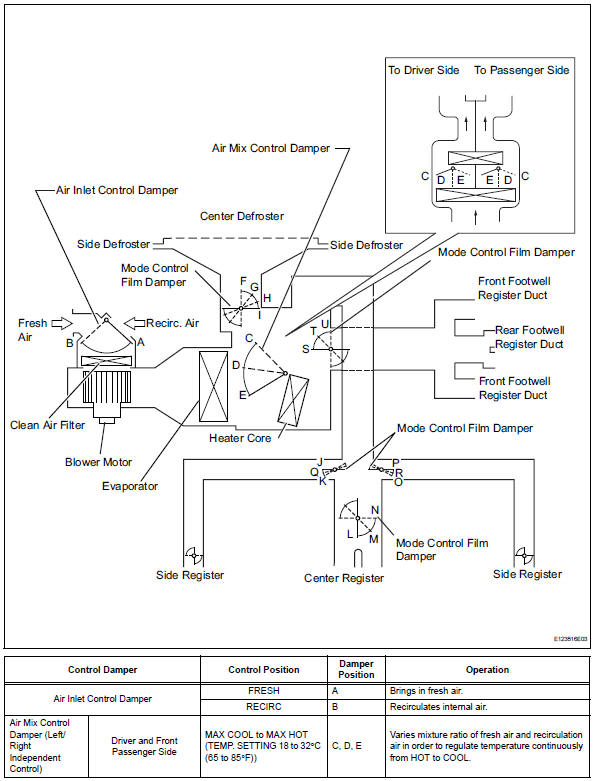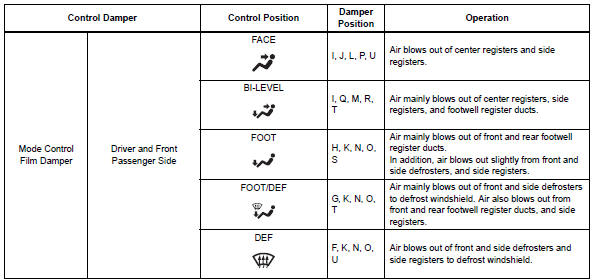 Air outlet and airflow volume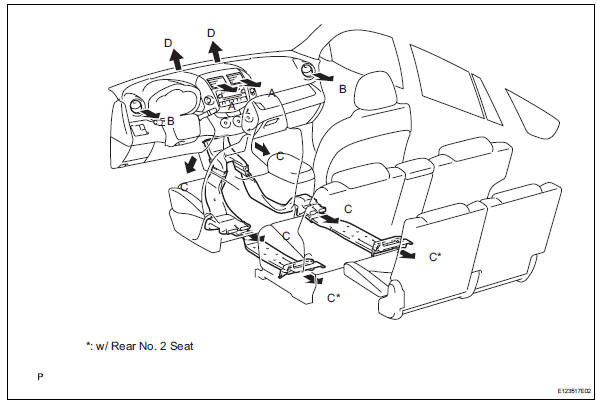 The circle size (..) Indicates the proportion of the flow volume.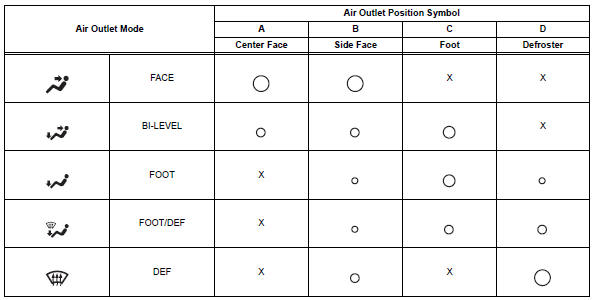 Other materials:
Fail-safe chart
If a problem occurs in the electric power steering system, the p/s warning light will come on in the combination meter and steering power assist will be stopped, fixed at a particular point, or decreased simultaneously to protect the system. Hint: The amount of power assist may be decreased ...
Installation
Caution: Be sure to read the precautionary notices concerning the srs airbag system before servicing it (see page rs-1). Install front passenger airbag assembly Attach the rear side hook of the front passenger airbag to the rear side airbag door. Bend the front side hook so that it a ...
Check for open circuit
For an open circuit in the wire harness in fig. 1, Check the resistance or voltage, as described below. Check the resistance. Disconnect connectors a and c, and measure the resistance between them. Standard resistance (fig.
Related news